Ahmadinejad polarizes UN Racism Conference
More than 40 European diplomats walked out in protest over the Iranian leader's speech, in which he called Israelis "the racist perpetrators of genocide."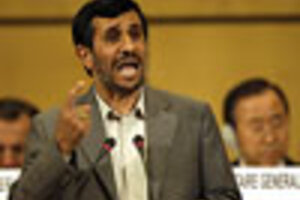 Anja Niedringhaus/AP
A major UN anti-racism conference already wounded by the boycott of nine Western countries, opened Monday with the buzz of anticipation for a speech by Iranian President Mahmoud Ahmadinejad – the only head of state who accepted an invitation to attend.
Mr. Ahmadinejad, who has referred to the Holocaust as a "myth" and called for Israel to be "wiped off the map," assailed the West for supporting the creation of the Jewish state after the atrocities of World War II.
"Under the pretext of Jewish suffering, they have helped bring to power the most oppressive, racist regime in Palestine," he said, to loud applause from Iranian activists in the gallery and pockets of headscarved Muslim women on the floor. "They have always been silent about their crimes."
With that, the 23 European Union countries who had not yet boycotted the conference abandoned their seats and streamed out of the hall, which was met by a smattering of more applause.
It had been hoped that this year's UN Racism Conference would avoid the fate of its 2001 predecessor, which was nearly derailed by vituperative debate over the Israeli-Palestinian conflict. The event is intended to be a global forum for addressing racial intolerance and sharing how to combat it. But the Middle East conflict again threatens to dominate the agenda.
---