Why did an Antarctic cruise ship sink?
Big ice chunks, misjudgment, and faulty doors doomed the MS Explorer. New limits are set on tourists and cruise ships to the region.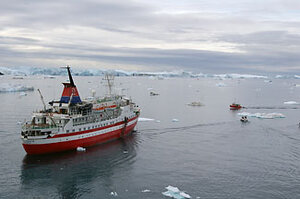 Colin Woodard/FILE
The MS Explorer was purpose-built for the Antarctic, a nimble expedition cruise ship with an ice-reinforced hull that pioneered the polar tourism trade in the early 1970s.
But on Nov. 23, 2007, she sank in what appeared to be the most routine of Antarctic circumstances: cruising through young pack ice in mild weather.
The 154 passengers and crewmen aboard were plucked unharmed from open lifeboats by other cruise ships the following day, just two hours before gale-force winds struck the area.
Until now, the causes of the ship's sinking have remained a mystery, with her owners, Toronto-based G.A.P Adventures, refusing to comment beyond initial reports that she struck submerged ice and succumbed to uncontrollable flooding.
But last week the results of an official investigation became public. It places blame on the captain having misjudged ice conditions and the failure of one of the ships' watertight doors.
The report by the Liberian Bureau of Maritime Affairs, through which the Explorer was flagged, described how the ship was damaged after the captain attempted to plow through what one passenger described as "a long wall of solid ice," presumably a ridge of broken ice forced up by pressure.
The report – which vividly illustrated how a single misjudgment can lead to disaster in the harsh, poorly charted waters of Antarctica – made a series of recommendations to improve safety on polar cruises. Among them: that these ships carry at least partially-enclosed lifeboats and enough immersion suits for everyone aboard, and that training requirements for ice navigation be better spelled out. Currently, the International Maritime Organization doesn't have formal competency training requirements for ice navigators.
---