Freed from Guantánamo, a Uighur clings to asylum dreams in Sweden
China wants Adil Hakimjan, who was granted political asylum, back. Sweden is now considering reversing his asylum.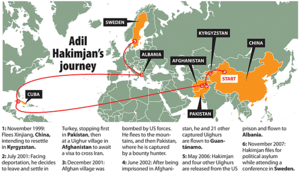 Rich Clabaugh/STAFF
In an odyssey spanning 10 years and three continents, a simple merchant's dream of a better life turned to a nightmare following 9/11.
Adil Hakimjan's journey led from northwest China's Xinjiang Province to Pakistan and Afghanistan, and from there to four years' imprisonment at Guantánamo. After being released from the US terror prison camp in 2006, the Chinese Uighur was sent to Albania and eventually sought asylum in Sweden.
Although he's out of Guantánamo and has been cleared of any wrongdoing by US authorities, his case is far from being settled. Mr. Hakimjan now sits in legal limbo in Sweden, with the Chinese government eager to see him deported and Sweden's Migration Board appealing an earlier decision that granted him asylum protection.
"In three months, it's been three years since we were released from Guantánamo," Hakimjan told the Monitor recently, referring to four other Uighurs released with him from Guantánamo. "Still, I cannot start my own life."
---