In a Georgian village, Easter hunts involve bruises, honor, and the fight over a 35-lb. ball
Communists failed to ban the traditional game, which is part rugby and part running of the bulls.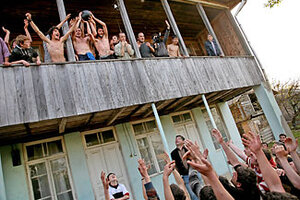 Justyna Mielnikiewicz
There is no referee, because there are no rules.
There are no time-outs and no limit to the number of participants, although children are discouraged.
The game is called and, despite periodic attempts to ban it, it has been played since time immemorial exclusively in this western Georgian village every year on Orthodox Easter Sunday.
"If you fall on the asphalt, we stop the game to help you up – sometimes," says Dursun Abkhadze, Shukhuti's octogenarian blacksmith and a former competitor.
It is a simple game. The playing area is the entire village of Shukhuti, which is set between two rivers. The match starts when the village priest drops a 35-lb. ball in the middle of the two-lane highway that runs through Shukhuti. The upper and lower halves of the village then struggle against each other – by any means necessary – to carry the ball some 225 yards back to their respective riverbanks.
When fully under way, a match looks like an enormous rugby scrum madly plowing through the village with the passion of Pamplona's running of the bulls. When you see it coming, you run.
Nobody knows where (which means "try" in Georgian) originated, when it was introduced, and why it is played on Easter Sunday. It is simply a village tradition.
Tamaz Imnaishvili, a local journalist, has a theory that the game appeared as a commemoration to a battle that occurred in Shukhuti between the Ottoman and Russian empires in 1855.
The local priest, Father Saba, who, like other priests here goes by a single name, sees the game as an extension of Georgia's inherent bond with pre-Christian rituals, which he says were interwoven with the teachings of St. Andrew, who preached the gospel in the region.
---