Sri Lanka: War-zone access becomes flash point
Despite the government's declaration of victory, the area remains off limits, raising concerns about human rights violations and getting aid to civilians.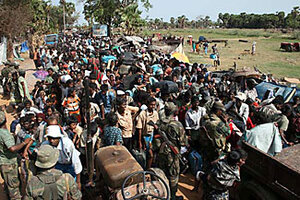 Sri Lankan Government/Reuters
As the Sri Lankan government basks in newfound victory against Tamil Tiger rebels, United Nations and other aid agencies are clamoring for unfettered access to the war zone, something they say is crucial to aid the wounded and to lay the groundwork for rebuilding trust in the divided nation.
The former theater of war in northeastern Sri Lanka has been out of bounds for aid workers for months, with the Sri Lankan government only granting sporadic access to the International Committee of the Red Cross permission to supply food aid and to evacuate the injured.
"The international community must require the prompt deployment of international monitors to be stationed in critical locations, including registration and screening points, displacement camps, and places of detention," says Sam Zarifi, Amnesty International's Asia Pacific director.
In recent months, as the military aggressively went after the Liberation Tigers of Tamil Eelam (LTTE), determined to crush the three-decade-old insurgency, this has largely been a war without witness. Journalists, independent observers, and aid groups have been persistently denied access to the region. Even now, with the government having announced victory against the rebels this week, the region still remains inaccessible, raising concerns for the fate of those civilians who have remained behind or are too sick or injured to flee.
---