Death of former South Korean leader prompts deeper look at reconciliation with North
President Lee has reversed the softer approach of his predecessor, Roh Moo Hyun, who committed suicide over the weekend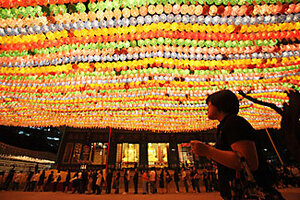 Ahn Young-joon/AP
The legacy of South Korea's attempts at reconciliation with North Korea endures in emotions over the suicide of the former president, Roh Moo Hyun, even as his conservative successor, President Lee Myung Bak, rallies the South in response to North Korea's nuclear test and missile launches.
Tens of thousands of people have visited the home of Mr. Roh, near the southeastern port of Pusan, to offer condolences, and the government is braced for thousands more demonstrating on Friday during a state funeral on the grounds of a historic palace near the Blue House, the center of presidential power.
Top officials, along with defenders and critics of both President Lee and Roh, will attend the funeral for a man whose policies Lee has reversed in the 15 months since his inauguration and a lopsided victory over a candidate endorsed by Roh.
Limited to a single five-year term by South Korea's Constitution, Roh had hoped to perpetuate reconciliation with the North through the candidacy of a former unification minister.
Corruption charges against Roh
The rapid succession of the death of Roh, who leaped into a ravine Saturday, and then of North Korea's nuclear test on Monday, focuses attention on the contrasting approaches of the two South Korean leaders.
"It is a very difficult moment," says Lee Chang-chong, a former ambassador. "The left wing might take to the streets nationwide. They are saying Roh was killed by political revenge. President Lee must suffer in the coming months."
---