Why Germans are starting to strike – like the French
Day-care workers are on strike this week as Germany's model labor union system shows signs of unraveling.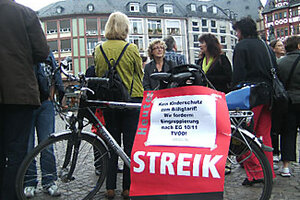 Isabelle de Pommereau
Germans rarely strike. So when tens of thousands of teachers, day-care providers, and youth workers from Bremen to Munich took to the street this week, they did much more than disrupt the schedules of busy working parents.
They broke with the consensual way in which employers and employees in postwar Germany have solved disputes over working conditions.
It is as though the rebellious streak in French workers next door has started to spill across the Rhine River.
"German is waking up," said Monika Lattki Thursday morning, demonstrating with hundreds of day-care workers in front of Frankfurt's city hall. The teachers say they are overburdened with red tape and suffer from health problems caused by their jobs, and are striking for more pay and more recognition. "We've reached our pain level."
Four strike days per year vs. 93 days
Such complaints may sound common in the US or elsewhere in Europe. But they're completely unorthodox here. Between 1998 and 2007, strikes in Germany cost employers an average of four work days per year, per thousand workers.
---