Malaysia's Najib targets affirmative action
The prime minister, his ruling coalition under pressure, vows to end policies that favor ethnic Malays and to boost foreign investment.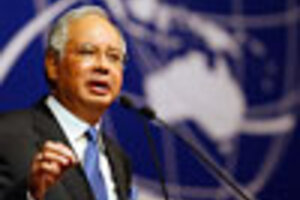 Mark Baker/AP
In a political gamble, Malaysian Prime Minister Najib Razak has begun chipping away at affirmative-action policies for ethnic Malays in a bid to attract more foreign investment and revive a recession-hit economy.
The move comes as opposition parties continue to pressure the ruling coalition, which has seen its support base crumble among non-Malays. Winning back their support is seen as crucial for Mr. Najib, who took power in April and has vowed to rebuild trust in the government.
In a speech, Najib said Tuesday that public companies would no longer have to allocate 30 percent of stock equity to Malays. The requirement, seen as inefficient and inflexible, has deterred companies from raising capital on Malaysia's stock market.
He also unveiled a series of reforms to liberalize foreign investment in Malaysia, which has struggled to stay competitive with other Asian economies. These include raising caps on foreign ownership and streamlined approvals for inbound acquisitions and takeovers.
"We expect the wider participation of foreign players to raise the level of competition and to promote innovation to drive growth at a faster pace," he told an investment forum in the capital, Kuala Lumpur.
Objections to race-based regulations
Trading partners have objected to Malaysia's race-based regulations. Free-trade talks with the US stalled in 2006, in part because of government procurement rules that favor ethnic Malays. Congressional approval for fast-track negotiations expired the following year without a deal.
---