In Afghanistan operation, Marines return to 'little America'
US forces are pushing deeper into Helmand Province, where Americans promoted development throughout much of the cold-war era.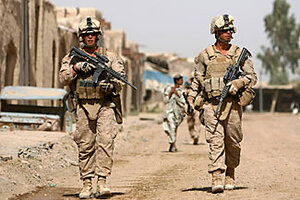 Ahmad Masood/Reuters
The area where US Marines just launched one of their biggest operations in recent years was once known as "little America." During much of the cold war era, American expertise and money poured into Helmand Province, raising up towns from the desert through a massive irrigation project.
Nearly 4,000 marines, along with hundreds of Afghan forces, pushed deeper into the southern districts of Nawa and Garmsir after launching their strike yesterday from Camp Leatherneck, a newly built base in central Helmand.
Resistance so far has proved light – something that analysts say may indicate the insurgents have decided to pack up and take their fight elsewhere. The military reported that one marine was killed Thursday, and several wounded. Friday reports were unavailable.
"When military forces push into one area, it tends to just push the conflict into other areas," says Nic Lee, director of the Afghanistan NGO Safety Office. "It's like moving pieces around a chess board."
As the marines move south down the Helmand River, they are probably passing through towns that would not exist but for the American water-works assistance, says Richard Scott, an agricultural expert who has worked on the project over decades. Yet the US-backed Afghan government has lost control of these parts of Helmand to Taliban insurgents, and the US is now trying to win them back.
---