Spain goes halfway on nuclear power
Prime Minister José Luis Rodríguez Zapatero's decision to keep a small nuclear plant operating has been criticized on both the right and the left.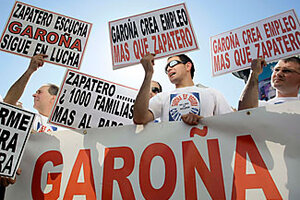 Susana Vera/Reuters
Increasingly unpopular Spanish Prime Minister José Luis Rodríguez Zapatero sought a Solomonic solution last week when he ordered the shutdown of the country's oldest nuclear power plant for 2013, but few are pleased.
Mr. Zapatero had pledged to decommission nuclear plants once their 40-year lifespan expired, which in the case of the Santa María de Garoña station would have been in 2011. But then politics and the economy got in the way.
"It's not an easy decision," he said Thursday, acknowledging that he would be "criticized by both sides."
And indeed he was. Parties to the left – vital to Zapatero's governing coalition in Parliament – attacked the decision to postpone the closure of Garoña and questioned the prime minister's credibility and integrity.
The conservative Popular Party, already in pre-campaign mode, said it would overturn the government's decision if it wins the 2012 general elections and that it would extend Garoña's lifespan until 2019, which is the date approved by Spain's nuclear watchdog agency in a non-binding report.
Garoña generates about 1.4 percent of the country's electricity and its 466-megawatt reactor is Spain's smallest. But the nuclear industry, which supplies 20 percent of the country's power, is concerned the decision could set a precedent.
Although none of the seven other nuclear plants are due for decommissioning for more than a decade, their operating licenses need to be renewed by Zapatero's administration. The government was quick, though, to describe Garoña's shutdown as an isolated case. It also said the 40-year lifespan of the remaining plants is not in jeopardy.
---