Obama, Medvedev cite strong start in 'resetting' relations
From arms control to Afghanistan, analysts say the deals brokered by Obama and Medvedev could profoundly reshape global security.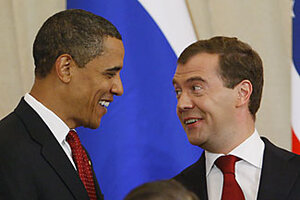 Charles Dharapak/AP
Much better than expected.
That seems the initial reaction of Russian experts to the raft of agreements that emerged, along with a smiling Barack Obama and Dmitry Medvedev, from four hours of intensive talks in the Kremlin that covered everything from nuclear arms control to US meat imports to Russia.
"Yes, our relationship really has been 'reset' and put back on track," says Stanislav Belkovsky, president of the independent Institute of National Strategy in Moscow. "Both sides clearly wanted this to happen, and it was time."
Two deals inked Monday, on nuclear arms control and Afghanistan, hold out the potential to reshape the sometimes troubled US-Russia strategic relationship in ways that could reverberate positively through the larger problems of global security, Mr. Obama and Mr. Medvedev said in the Kremlin press conference.
"The US and Russia have responsibilities in almost everything that's happening on the planet," Medvedev said. "We have decided that the current level of our relations does not correspond to reality, or to what is needed to match the requirements of the 21st century."
---