G8: Does world need new rules on food security?
As rich countries snap up farmland in developing world, calls grow for regulation to prevent what many see as neocolonial behavior.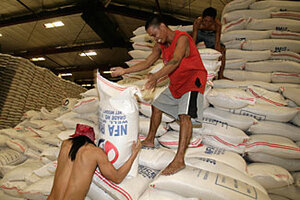 Cheryl Ravelo/REUTERS
Some are calling it a neocolonial land grab. Others liken it to a second scramble for Africa, only this time the land is being secured through monetary, not military, means.
The trend of rich countries buying and leasing large tracts of land to farm in the developing world is causing such consternation in United Nations, diplomatic, and nongovernmental circles that the Group of 8 will be urged as they meet this week to discuss new rules that could somehow regulate the phenomenon.
According to Olivier de Schutter, the UN special rapporteur on food, some 30 million hectares (74 million acres) of developing world land – an area roughly half the size of France – have been targeted in scores of deals over the past three years.
China, South Korea, and Saudi Arabia appear to be at the forefront of the movement, targeting land in countries like Democratic Republic of Congo, Sudan, and Tanzania, but also in Asian countries like Cambodia and the Philippines.
---