G-8 as climate change forum: baby steps
Leaders agreed that warming must be stopped, but few specifics were reached on how to reduce greenhouse-gas emissions.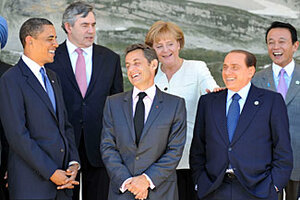 Eric Feferberg, Pool/AP
The Group of 8 summit in Italy, which turned largely into a climate change conference in the past 48 hours – agreed to limit global warming to an average of 2 degrees Celsius (3.5 degrees F).
While that is seen as a significant step forward, there was no agreement yet on specific short-term moves to reduce greenhouse-gas emissions by 2050 – something insiders considered politically unrealistic ahead of the meeting.
The G-8 "was a giant leap for the US, and one small step for mankind," says Bastian Hermisson of the Heinrich Böll Foundation in Germany, a think tank aligned with the Green Party, in describing US climate policy shift from the Bush to Obama administrations. At the G-8 last year in Japan, after many years of disagreement with global warming initiatives, dating to the Kyoto Protocols, and with much consternation in European states – the Bush White House agreed on a 50 percent reduction in gases by 2050. [EDITOR'S NOTE: In Japan last year, the US did not agree to a specific base year from which to make a 50 percent reduction.]
---