Q&A with Uighur spiritual leader Rebiya Kadeer
The Monitor spoke with the exiled mother figure for China's Uighurs about the deadly riots, independence, and China's use of the label of 'terrorist.'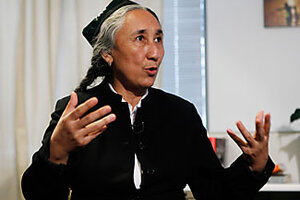 Pablo Martinez Monsivais/AP
Rebiya Kadeer, the exiled Uighur businesswoman accused by China of "masterminding" last week's deadly riots in Xinjiang Province, says she has had no contact with "any violent groups in Xinjiang." She hopes President Obama will urge Chinese leaders not to execute protesters, and called Sunday for a US consulate in Xinjiang.
In a wide-ranging phone interview, the mother figure of some 20 million Uighurs says China's official depiction of the ethnic group as terrorists after 9/11 is worse than its policies to restrict language and religion. She says Chinese leaders' call for harsh measures, including execution of protesters, will have "dangerous consequences for China and for the Uighur people." [Editor's note: We overestimated the number of Uighurs worldwide. The World Uyghur Congress estimates there are more than 20 million Uighurs. China's 2000 census reported 8 million in Xinjiang Province.]
On July 5, a peaceful protest in Urumqi over the killing of two Uighurs in Guangdong turned violent, becoming the worst ethnic riot in China in decades. The official death toll is 184.
---