Briefing: Was Zelaya's ouster a coup?
Hondurans debate the legality of the forced exile of President Manuel Zelaya.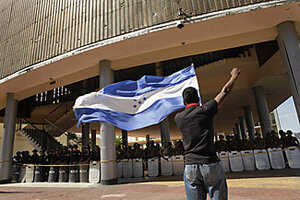 Arnulfo Franco/AP
In the early hours of June 28, military forces entered the home of Honduran President Manuel Zelaya, put him under arrest, and sent him on a plane to Costa Rica. Leaders from around the world condemned the action as a coup – a "violent overthrow or alteration of an existing government by a small group," according to Merriam-Webster. But the interim leaders in Honduras claim that their president vacated his office by acting against the Constitution and that a legal succession of power took place. Neither side has backed down, though talks are under way in Costa Rica .
What's the legal argument that this was a coup?
The fact that the military arrested Mr. Zelaya at gunpoint and, most important, exiled him, are the key points raised by world leaders who call the events a coup. The Organization of American States (OAS) voted unanimously to suspend Honduras from the regional body, citing Article 21 of its Inter-American Democratic Charter, which states that if there is "an unconstitutional interruption of the democratic order of a member state, and that diplomatic initiatives have failed, the special session shall take the decision to suspend said member state." The OAS decision is in line with much of the global reaction, as nations have recalled ambassadors and suspended trade and aid. The US government has declared the ouster "not legal."
---