Honduran crisis deepens as mediation stalls
Deposed President Zelaya now says he will return Friday. Honduras's interim leader has refused to allow Zelaya back.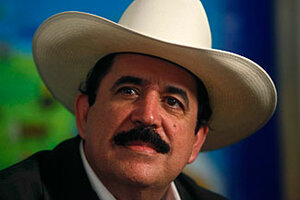 Esteban Felix/AP
The political crisis in Honduras deepened Wednesday, as the country's deposed president and its interim leader resisted a final proposal floated by Costa Rican president Oscar Arias.
Mr. Arias said this would be his last attempt to forge a resolution, after Honduran President Manuel Zelaya was arrested by the military and deposed on June 28. An interim government, led by Roberto Micheletti, was sworn in hours later.
Mr. Micheletti's delegation has refused to budge from its opposition to any proposal that requires the return of Zelaya to carry out his term, which ends in January.
Zelaya is vowing he will return home by Friday, crossing the border from Nicaragua. On Wednesday, he declared the talks over.
"The coup leaders are totally refusing my reinstatement," Zelaya said at a press conference in Nicaragua. "By refusing to sign, [the talks] have failed."
Arias had pushed for the return of Zelaya by Friday in an 11-point plan that included early presidential elections and amnesty for political crimes.
The Nobel Peace Prize winner put pressure on both sides Wednesday. "The clock is ticking fast, and it's ticking against the Honduran people," he said. "I warn you that this plan is not perfect. Nothing in democracy is perfect."
Micheletti's delegation said it would return the proposal to Honduran institutions, but the Supreme Court earlier ruled that it would be illegal to reinstate Zelaya.
The interim government has become increasingly isolated as many nations, which have already recalled ambassadors and suspended aid, stepped up pressure this week: the European Union suspended $90 million in aid money and the US threatened tough new sanctions.
---