Military signals softening in Honduras crisis
Exiled President Zelaya has set up camp on the Nicaraguan border to keep up pressure on interim government.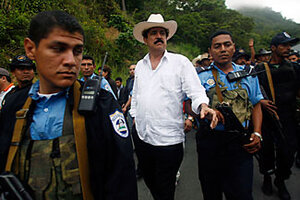 Oswaldo Rivas/Reuters
With mediation talks over the ouster of Honduran President Manuel Zelaya broken down last week, and international pressure failing to get the interim government to step down, everyone is asking: What's next?
Mr. Zelaya crossed into his country Friday, and then set up a camp at the Nicaraguan border over the weekend, vowing to come back to the border as many times as necessary.
The interim government has vowed to arrest Zelaya on charges, including treason, after he was exiled by the military June 28 in what the international community has declared a coup, though leaders in Honduras maintain the move was legal. Many feared his return could spark widespread conflict.
Instead, the moment passed. The interim government shrugged it off as a publicity stunt and foreign leaders condemned the move, saying it will do nothing to get Honduras back on constitutional track.
"I don't think we've seen the final chapter yet," says Eric Farnsworth, vice president of the Council of the Americas, adding that Mr. Zelaya must weigh whether risking a full return, and potential jail time, is in his best interest. "He will keep pushing, and crossing the line, and string it out as long as possible. If he is in jail, he's out of the limelight."
On Friday, at a remote border crossing at Nicaragua, Zelaya, flanked by media, lifted a chain and briefly stepped across the border, declaring that his return showed that support for the interim government is waning.
Roberto Micheletti, who heads the interim government, quickly dismissed his return as "ill-conceived."
---