Envoy Mitchell kicks off Mideast peace push
In Syria, Mitchell said peace between Israel and Syria was a 'near-term goal.' Syrian, Israeli, Egyptian, and Palestinian leaders are meeting with the special envoy, who will be joined by Defense Secretary Gates and other high-level US officials.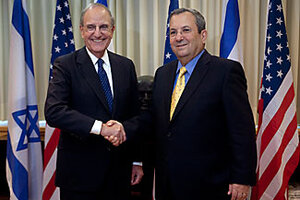 Uriel Sinai/Reuters
The Obama administration embarked on a multipronged Middle East peace drive on Sunday, with four senior US officials coming here to push for progress on some of the region's thorniest issues.
In the course of what promises to be an intense week of diplomatic activity, Israeli, Palestinian, Syrian, and Egyptian leaders are meeting with Middle East special envoy George Mitchell. Three other heavy-hitters will also be in town: Secretary of Defense Robert Gates, special adviser Dennis Ross, and National Security Adviser James Jones.
The week is expected to focus in part on the Israeli-Palestinian conflict – including a US goal of getting Israel to agree to at least a temporary freeze in settlement building. But it will also target other issues: the possibility of relaunching talks between Israel and Syria and discussions over Iran's nuclear program.
Ambassador Mitchell arrived in Israel on Sunday after a visit to Damascus, during which he told Syrian President Bashar al-Assad that peace between Israel and Syria was a "near-term goal."
"If we are to succeed, we will need Arabs and Israelis alike to work with us to bring about comprehensive peace. We will welcome the full cooperation of the government of the Syrian Arab Republic in this historic endeavor," Mitchell said.
---