After the fall of the wall: Germans long to downsize their role
Germany's postwar internationalism seems to be giving way to parochialism.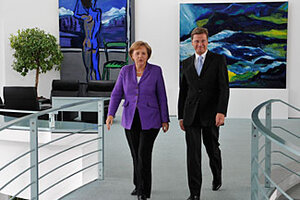 Wolfgang Rattay/AP
Germany, for better or worse, has never been an ordinary European nation. After World War II, West Berlin relished a forward-looking view, establishing itself as a driver of European integration, global consensus, international responsibility, human rights, and peace.
Now, 20 years after the fall of the Berlin Wall, and a successful (but psychologically and financially exhausting) reunification, there's growing sentiment in Germany to scale back its roles in Europe and the world.
Public ardor is shifting toward a sentiment for "normalization," analysts say: Germany has paid its substantial debt to history; it perceives no traditional threats, and wants quiet. Berlin will help Europe, but no longer wants to be its cash machine. It will more sharply define its interests, and is looking east to Russia.
"After the war, it was easy for Germany to be 'for Europe.' We were not a sovereign country. Now we are," says Eberhard Sandschneider of the German Council on Foreign Relations. He spoke ahead of Chan­cellor Angela Merkel's reelection Sept. 27, in a campaign that was free of foreign-relations debates. "Germany has become normal again. We are a country with high global interests, but not a global player. We are not a superpower, and don't have superpower responsibilities."
---