Global warming: Indians decide to make their own glaciers
Global warming causes glaciers to retreat in India, prompting ingenuity from mountain farmers to conserve water for crops.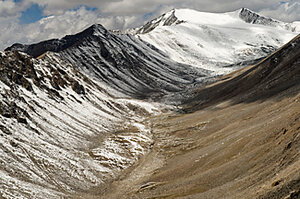 Mary Knox Merrill/Staff
Chhewang Norphel makes artificial glaciers. The reason: The real ones have rapidly receded up the Himalayan slopes in his home district of Ladakh in northernmost India.
Himalayan communities like Ladakh rely on glacial runoff to grow food, making them – along with tiny island nations – among the first to feel an existential threat from climate change. Mr. Norphel's artificial glaciers represent one of the earliest human efforts at adaptation.
"At the moment, except for this, there is no other solution," says Norphel. But he feels time running out, since even his idea requires runoff from real glaciers. "Everything is melting very, very quickly because of global warming."
The septuagenarian nimbly hops from stone to stone to cross a stream. Below, on an otherwise boulder-strewn high desert, lies the small village of Stakmo in a patch of green fields famous for barley.
Here, Norphel is using what is abundant – stone – to conserve what is precious – water. The idea is simple: Divert the unneeded autumn and winter runoff into a series of large, rock-lined holding ponds. As the days grow colder, the ponds freeze and interconnect into a growing glacier.
Less snow to moisten spring soil
He has built 10 glaciers across the region. His largest stretched more than a mile before an unusual week of rain wiped it out in 2006.
The artificial glaciers melt early enough to rescue farmers from the catastrophe of a dry spring. In recent years, farmers have been planting later and later because the natural glaciers are now too high to melt early, and the valleys no longer get a covering of snow to moisten springtime soil.
---