When the Berlin Wall came down
Twenty years later, the rest of the world is a different place because of that event.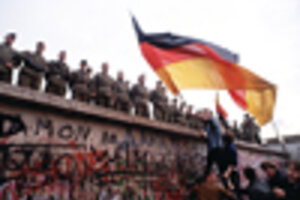 Tom Stoddart/ Getty Images/ File
She was born in a country that no longer exists, in an East German hospital on Nov. 9, 1989, the day the Berlin Wall came tumbling down.
Jamila al-Yousef's birthday is part of history, the date a marker between the past and the future, between Europe's bloody 20th century and all that came after.
The daughter of a German mother and a Palestinian father, Ms. Yousef has known only freedom in her life, traveling through Europe, attending university in London, connecting with friends around the globe on Facebook, and talking on a cellphone.
Whatever she knows about the Berlin Wall and the old East Germany has come from history books and family stories. Like millions of others in her generation she has grown to maturity in a world where the wall no longer casts a shadow, where Germany is reunified.
"Every time I see the wall on television, I get goose bumps," she says. "I don't know why."
History didn't end with the fall of the Berlin Wall 20 years ago – but a new chapter began. The world we now live in was born on that confusing, joyous, and unbelievable night in Berlin. It began when a hapless East German official mistakenly announced on live TV that restrictions on East German travel to the West were immediately lifted.
By the tens of thousands, people headed for the wall. The masses yearned for freedom and were eager to see what was on the other side. So they streamed through gates and hugged those waiting in the West. Some climbed the barrier; others took pickaxes to concrete.
---