In the Iraq war, Christians pushed to the brink
Iraq's Christians have been targeted for kidnapping and forced to flee their homes. One advocate says that in a generation, Christians could be gone from the land they've lived in for 2,000 years.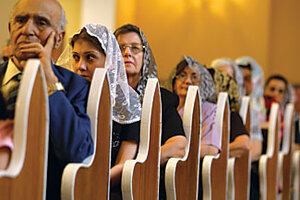 Mohammed Ameen/Reuters/FILE
At the height of Iraq's sectarian war, Hana Hormoz's Baghdad neighborhood of Dora became a Sunni Muslim stronghold hostile to him and his fellow Christians. Women were forced to wear hijab; priests were kidnapped for ransom. Their local church was bombed.
"If you didn't tolerate and accept everything from the Sunnis, you were treated like an American ally," says Mr. Hormoz, a teacher who moved his three sons and daughter to this northern city in 2006 but still lives in Dora with his wife. "In each street in Dora, there used to be 20 or 25 Christian homes. Now, you might find one or two, and in some places you can't find Christians anymore."
Hormoz's story, which he gave on condition that his real name not be printed, echoes that of hundreds of thousands of Iraqi Christians who have been displaced in disproportionately high numbers. A Nov. 10 report by Human Rights Watch (HRW), says two-thirds of Iraq's Christians have fled their homes – many abroad. And while they made up less than 5 percent of Iraq's population when the war began (about 1 million), they now constitute an estimated 10 percent of internally displaced Iraqis and 20 percent of Iraqi refugees in neighboring nations.
Their displacement not only threatens to end Christianity's 2,000-year history in Iraq, it also deprives the country of a huge swath of middle-class professionals at a critical time. Since no Christian was able to have a government job under Saddam Hussein, university graduates became lawyers, doctors, and engineers. Crucial to Iraq's recovery, they are now scattered, afraid to return.
---