New Moon opening night: From Britain to China, fans are going crazy
New Moon opening night is bringing out the fan base – largely teen girls – around the globe.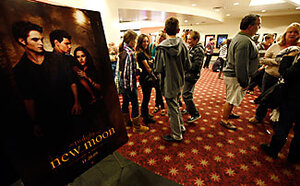 Matt Sayles/AP
It's a love story between a beautiful young woman and the man of her dreams – who just happens to be 109-year-old vampire.
It's no mystery that the "Twilight" series has been the teen publishing phenomenon of recent times, prompting comparisons to Harry Potter. That success is set to be mirrored in cinemas worldwide with the release this weekend of "New Moon," the second movie adaptation from author Stephenie Meyer's series of books that brim with (unconsummated) desire.
"New Moon" was the fastest advance-selling film of the year in Britain, exceeding the £1 million ($1.6 million) mark, according to the country's largest cinema chain, Odeon.
In India, teenager Ritisha Mishra was so outraged at having been bypassed by the first movie that she rallied likeminded partisans online – and galvanized distributor PVR into bringing both the first and second films to the big screen over the next two weeks.
And in China, where at least one of the books in the series has perched atop the bestseller list for nearly a year, hundreds of thousands of admirers have been soaking up pirated versions of the first movie, which opens in general release only next week.
Core following? Adoring teens.
---