ElBaradei leaves nuclear watchdog with legacy of honesty, Iran leniency
Mohamed ElBaradei stepped down from his post at the UN nuclear watchdog IAEA at the end of November. He's been seen both as an honest broker and as being too soft on Iran.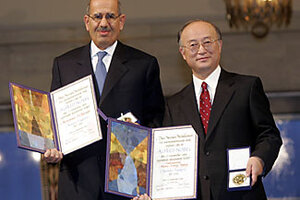 Bjorn Sigurdson/Reuters
After 12 years of increasing international prominence, Mohamed ElBaradei stepped down on Nov. 27 as head of the world's nuclear watchdog – giving way Dec. 1 to Yukiya Amano, a quiet and experienced team player who jokingly tells colleagues he is the only Japanese they will ever meet who doesn't play golf, watch baseball, or sing karaoke.
The transition takes place amid international concern over the rise of Iran's nuclear program, which has increased its number of centrifuges (crucial for enriching uranium and making nuclear fuel) from zero to 8,000 in recent years, with at least two violations of the United Nations' International Atomic Energy Agency (IAEA) rules.
Mr. ElBaradei's departure worries some and delights others. During the Egyptian-born lawyer's tenure the agency moved from being a low-key monitoring office to standing at the center of what is arguably the globe's No. 1 overall security issue, the danger of nuclear proliferation. Under ElBaradei, the agency became an unusual international actor. Much of the rise of the agency's profile came after ElBaradei stood up, under great pressure, to the American White House ahead of the Iraq war in 2003 to tell the UN Security Council the agency found "no evidence" of a nuclear program by Saddam Hussein. Later proved correct in the context of a war that profoundly shocked many in Europe and elsewhere, the stand brought a new honest-broker cachet to the agency, gave it prominence, and garnered a Nobel Peace Prize for both ElBaradei and the IAEA general staff.
---