Afghanistan mental health: Treatment caught between ancient and modern worlds
While Afghanistan mental health treatment has improved in cities, many rural residents still opt to send the ill to shrines, where they may be chained and poorly fed. Aid workers are trying to expand training for community health workers.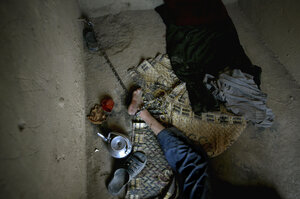 Altaf Qadri/AP
Hamidullah Khan says he went insane after he fell down a well. The chatty young man spends his days alone with his right foot chained to the wall of a windowless cell of the Mia Ali Shrine, a religious site that, for centuries, has taken in the mentally ill.
The shrine-keeper feeds Mr. Khan and three other patients a strict diet of bread and black pepper. The chains and the close walls dictate the position they will sleep on the ground. Sanitation is nonexistent. They use uncollected trash in each cell to fling their waste out the doorway.
Earlier, Khan spent 40 days chained to an ancient tree in the dirt courtyard. The shrine-keeper says that's the usual treatment when the weather isn't too chilly. Some people don't survive the regimen and are buried in earthen mounds scattered around the shrine.
Shrines offering this draconian approach to mental illness exist today in Afghanistan alongside a modernizing mental health system supported by Western donors. The two approaches epitomize the two Afghanistans - one a developing nation emerging in the cities, the other an archaic countryside cut off by illiteracy, tradition, and insurgency. Linking the two involves basic training in villages as well as debates over tradition and religion.
And the need is urgent. A 2004 survey published in the Journal of the American Medical Association found symptoms of depression in nearly 70 percent of respondents and of post-traumatic stress disorder in more than 40 percent. Those numbers are "high, even when compared with other communities traumatized by war," noted the authors.
---