As US mulls Iran nuclear sanctions, Syria boosts ties with Tehran
Syria and Iran have signed a new military cooperation agreement in the face of increased international pressure for Iran nuclear sanctions. Congress is considering two bills this week.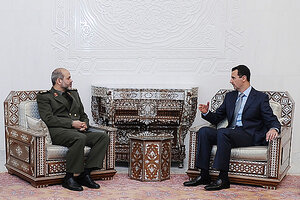 Reuters/Sana
As the US Congress considers two bills for new sanctions on Iran, Syria has displayed support for its neighbor with a defense cooperation agreement announced late last week.
Syrian Defense Minister Ali Habib warned that Syria and Iran would "jointly confront attacks" against any of the two countries, according to reports by Iran's semi-official Fars news agency. Iran's Defense Minister Ahmad Vahidi added that Syria and Iran face a "common enemy" and that the military alliance was an "element of deterrence" against Israel.
The agreement underscores the resilience of Tehran's alliance with Damascus, despite overtures to the US in the past year, and allows Iran to project the image of a unified front in the face of threats of sanctions and military strikes.
---