In Timbuktu, a race to preserve Africa's written history
Ancient manuscripts in Timbuktu, that prove a written history often overlooked by the rest of the world, are crumbling due to lack of funding for preservation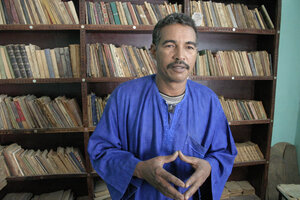 Scott Baldauf/The Christian Science Monitor
Ahmed Saloum Boularaf is holding a leather-bound sheaf of documents that date back to the 13th century. The manuscript contains a poetic rendition of the life of the Prophet Mohammad, written in the lacy Arabic handwriting of an African scholar who knew how to read before some Europeans even knew of the existence of books.
Like most of the 1,700 manuscripts in Mr. Boularaf's private collection – which includes ancient books on medicine and history, astronomy and mathematics -- this one is beginning to crumble, and Boularaf knows that in a very short time, his manuscripts and the knowledge they contain, could be lost forever.
"For Africans, this is a treasury of our culture, and my home is open for all the researchers of the world to come," he says. "My grandfather had the idea that we must copy these manuscripts before they are lost. We have some manuscripts here that are so fragile that if we don't do something quickly to study them, conserve them, they could be lost."
Depending on your perspective, Timbuktu is either the end of the world or, if you are coming from the desert, the first welcome sign of civilization. Once a great city of commerce, where camel caravans crossed the Sahara to trade slabs of salt in exchange for gold or slaves, Timbuktu was the meeting place of cultures.
At its height, from the 11th to the 15th centuries, it was a university town with vast libraries. Scientists here were postulating that the earth was round at a time when many European sailors were terrified of sailing off the edge of an earth that they thought was flat.
---