Pakistan Supreme Court strikes down amnesty deal
President Asif Ali Zardari could once again face charges of corruption after Pakistan's Supreme Court found that an amnesty deal that allowed many officials to serve in the government was unconstitutional.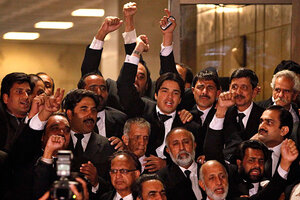 Faisal Mahmood/REUTERS
Pakistan's Supreme Court struck down a controversial amnesty deal on Wednesday that had erased charges ranging from corruption to murder against 8,000 people, including President Asif Ali Zardari. The verdict could invite political instability at a time when Pakistan is grappling with a deadly fight against militants and US pressure to do more.
The ruling that the 2007 National Reconciliation Ordination (NRO) is unconstitutional opens the door for existing cases to resume and for new legal challenges to be lodged against Mr. Zardari's right to hold office.
Many Pakistanis welcomed the decision as a rare victory against corruption. Courtroom observers ran outside and chanted against Zardari and in favor of the justices' decision to declare any acquittals under the NRO "of no legal effect."
But it is uncertain how the Supreme Court's action will play out in the legal battle to oust Zardari as well as in the political arena.
The NRO was "the most discriminatory piece of legislation. It just stood the rule of law on its head," says Maleeha Lodhi, a former ambassador to the United States.
"But of course it comes at a challenging and pivotal moment for Pakistan," she continues. "A great deal with depend on what the aftermath will be."
At the center of the storm: Zardari
The NRO was originally cast as a way to free elected officials and bureaucrats from "politically motivated" cases so they could serve in government. But many Pakistanis saw it as a get-out-of-jail free card for the political elite tied to Zardari's Pakistan People's Party (PPP). Party members currently serving as defense minister, interior minister, and ambassador to the US, among others, all got a clean slate.
---