Arturo Beltran Leyva: Mexico's top drug boss killed
In a raid Wednesday, Mexico police shot Arturo Beltran Leyva, the "boss of bosses," the top drug lord in the country. Beltran is the highest ranking figure taken down since President Felipe Calderon took office in 2006.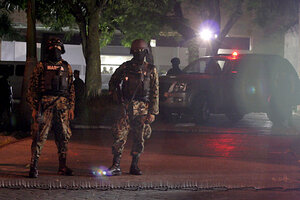 Margarito Perez/Reuters
Two hundred sailors raided an upscale apartment complex and killed a reputed Mexican drug cartel chief in a two-hour gun battle, one of the biggest victories yet in President Felipe Calderon's drug war.
Arturo Beltran Leyva, the "boss of bosses," and three members of his cartel were slain in the shootout Wednesday in Cuernavaca, just south of Mexico City, according to a navy statement. A fifth cartel member committed suicide during the shootout.
Cartel gunmen hurled grenades that injured three sailors, the navy said. An Associated Press reporter at the scene heard at least 10 explosions.
During the gunbattle, sailors went door-to-door to evacuate residents of the apartment complex to the gym, according to a woman who said she was speaking by cellphone to her husband inside. She would not give her name out of fear for her safety.
Beltran Levya is the highest-ranking figure taken down under Calderon, who has deployed more than 45,000 troops across Mexico to crush the cartels since taking office in December 2006. The offensive has earned Calderon praise from Washington even as 14,000 people have been killed in a wave of drug-related violence.
---