Philippines forces evacuation as Mayon volcano eruption threat persists
Philippines authorities are struggling to move nearly 50,000 people to safety as the Mayon volcano showed activity that could presage a major eruption.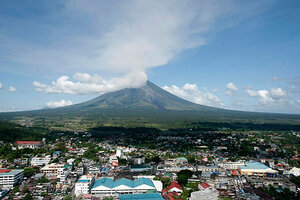 Bullit Marquez/AP
Philippine authorities were struggling Thursday to finish moving nearly 50,000 people to safety as the Mount Mayon volcano in the east of the country gave more warnings that it was about to erupt, local officials said.
However, many of those in danger refused to budge, officials said.
Authorities are determined to prevent any casualties if Mayon, the most active of the Philippines's 22 volcanoes, erupts. The central and local governments are quietly hoping to avoid a debacle similar to that in and around Manila in September and October, when a series of tropical storms and typhoons brought torrential rain.
Metro Manila's storm drains, many clogged with trash and overburdened in a city that has more than doubled in population in the past 30 years, to over 11 million people today, couldn't handle the downpours. Millions of Manila's residents live in shanty towns along river banks and flood canals and the resulting flooding and landslides killed at least 990 people and disrupted the lives of some 10 million. The disaster exposed shortcomings in the preparedness of the government and victims alike and an outpouring of national anger.
There may be bigger tests of disaster preparedness in the weeks to come if the current activity at Mayon builds towards a major eruption.
The government of Albay, the province some 200 miles southeast of Manila where Mayon is situated, ordered the evacuation of the danger zone, a mostly agricultural area, on Monday. By the middle of Thursday local time, military trucks had helped move at least 32,000 people to evacuation centers in schools and other buildings.
---