Copenhagen accord: 'essential beginning' to some, shaky foundation to others
Participants approved a Copenhagen accord that sets out emissions-control objectives, sets a target of less than 2 degrees for global warming, and pledges $30 billion in aid to developing countries. The pact is not legally binding.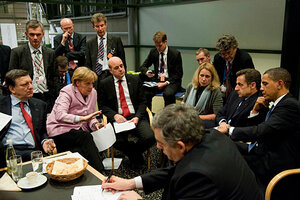 Steffen Kugler/BPA/Reuters
Ministers from more than 190 countries approved a new climate agreement today that lays out emissions-control objectives for the US and a range of developing countries, sets a target of less than 2 degrees for global warming, and pledges $30 billion in aid for adaptation and other climate-related needs for developing countries.
The deal first emerged yesterday after leaders from 28 countries backed the accord, which was negotiated by the US, China, Brazil, South Africa, and India. The goal was to have the pact adopted by all the countries taking part in two weeks of global climate negotiations here.
But the agreement left many observers disappointed – and laid bare the challenges of negotiating a climate agreement among 193 countries with such a broad range of political and economic interests, and with such diverse levels of economic development.
The pact that was agreed to today barely survived last-minute objections in an all-night plenary session aimed at gaining the needed consensus to become an official adjunct to the 1992 Framework Convention on Climate Change. Only after UN Secretary-General Ban Ki-moon and a group of international lawyers intervened with a last-minute word change did negotiators unanimously accept the pact.
The result: a pact countries can sign up for if they want to, once they've had time to study closely its provisions and get comfortable with them. A large number of countries do indeed want to be in on the pact, because of the climate aid package it contains.
---