Serbs celebrate new freedom to travel Europe without visas
The European Union on Saturday opened its borders to visa-free travel for more than ten million Serbs, Montenegrins, and Macedonians after nearly 20 years of tight restrictions.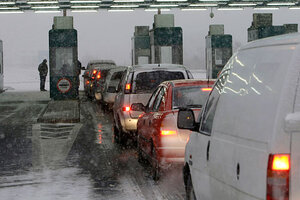 Darko Vojinovic/AP
At a snowy bus stop in New Belgrade, Serbia, Nadja Miladinovic waited to venture abroad for the first time without a visa.
She hadn't done much planning, but said Friday that she was headed to Vienna for the weekend for no other reason than that she could now take advantage of a new agreement with the European Union that allows residents of Serbia, Montenegro, and Macedonia to travel visa-free throughout most of Europe.
"Now it's different," says Ms. Miladinovic. "You feel free."
The EU's dropping of a 17-year, strict visa requirement now allows residents of those countries to visit European countries with ease. It's sparking travel plans among eager young people who've long felt trapped by the visa requirements, some of whom have never left the borders of the former Yugoslavia.
Milan Nikolic, a sociologist and political analyst in Belgrade, calls the change symbolic, pointing out that less than 10 percent of Serbs actually have passports. Mr. Nikolic does not expect the number to rise significantly anytime soon, but he does acknowledge the importance of this agreement between Serbia and the EU. "This is more important than the direct effects," he says. "In Serbia, it is considered rare to be treated in a positive way. We are used to the Hague coming and saying, 'You are not doing this.'"
---