Pakistan bombings by Taliban hit lower classes hardest
On Tuesday, the latest Taliban bomb went off in Peshawar, killing three. The Taliban targets upscale buildings and neighborhoods, but many of the injured – and those hit hardest economically by the bombings in Pakistan – are the poor.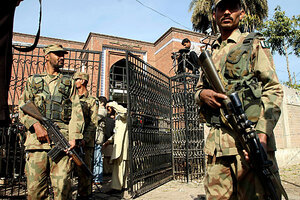 Mohammad Sajjad/AP
In their bomb attacks against civilians, Pakistani militants have sought to maximize shock value by hitting elite, high-profile targets like five-star hotels and marketplaces in the country's upscale neighborhoods.
But the repercussions from these bombings hits the less well-off, too, the urban poor who have fewer means to protect themselves, bounce back from economic loss, and even cope with the added anxiety.
"A lot of the elite targets is to show they can do these things, but whenever they do, they strike other targets," says Haris Gazdar, an expert on poverty at the Center for Social Science Research in Karachi. "Even if they're in a rich area, a lot of poor people walking in the street die," he says.
Though the assaults on symbols of power and wealth have grabbed the most attention, more often militants settle for victims who are easier to reach. Peshawar, the main town nearest the Taliban's base in the northwestern tribal areas, has been struck more times this year – and again Tuesday – than either of the wealthier, more central cities of Lahore and Islamabad, says Abdul Basit, head of security research at the Pakistani Institute for Peace Studies.
---