Afghanistan war: Marines move in to stop Taliban from Pakistan
As part of Obama's Afghanistan war surge, some 9,000 marines are moving into small Afghan towns near the border to stop Taliban soldiers and supplies coming from Pakistan. The view from this new front.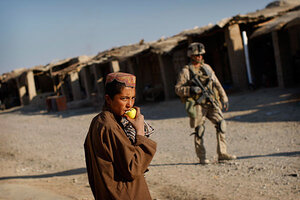 Kevin Frayer/AP
For Taliban fighters infiltrating Helmand Province from Pakistan, one ratline proved simple. They crossed open desert of pebble, sage, and moon dust toward a lonely mountain ridge, and entered Khan Neshin, a gateway to both the Helmand River Valley and one of the bloodiest corners of the Afghanistan war.
In July, though, US Marines seized towns along the Helmand River in a bid to shut down a central problem of the war: the cross-border flow of fresh fighters. But their march stopped at Khan Neshin, 70 miles short of the Pakistan border, slowing but not shutting down Taliban traffic. Now, some 9,000 of the new troops surging into the country are heading to Helmand to expand security and finish the march south. The scope of the time and manpower dedicated to the effort underscores just how difficult it is to secure the 1,600-mile frontier between Pakistan and Afghanistan.
"We have to get down to the border. We have to establish a legal border crossing point, so that if you try to bypass it, it becomes an illegal activity," says Lt. Col. Michael Martin, the commanding officer in charge of 4th Light Armored Reconnaissance Battalion in the Khan Neshin area. "You start to squeeze off the insurgency's ability to resupply itself."
But it's not as simple as dropping troops into new border outposts. Such posts have been tried before, only to have Pashtun towns deep inside Afghanistan begin to fall to the Taliban, cutting off the remote coalition outposts from behind.
---