Argentina's 'disappeared:' Justice at last or reneging on amnesty?
In Argentina, and elsewhere in Latin America, victims of brutal dictatorships are finally getting their day in court. But by trying former officials who were given amnesty, are nations reopening old political wounds?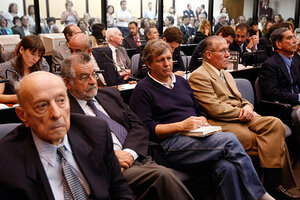 Marcos Brindicci/REUTERS
Just outside Buenos Aires, in the depths of the Rio de la Plata and the South Atlantic, lie the remains of thousands of bodies.
A generation ago, officials from Argentina's Naval Mechanics School, known by its Spanish acronym, ESMA, secretly loaded drugged prisoners into aircraft and threw them out over the brown and frigid waters. As many as 5,000 people were "disappeared" at the hands of ESMA, perhaps the most horrifying symbol of South American repression in the 1970s.
Earlier this month, more than 30 years after these crimes were committed, 19 officials from ESMA finally appeared in court.
The trial is the product of a debate emerging all across Latin America: Should amnesty laws passed a generation ago to shield authorities from Latin America's repressive dictatorships from prosecution still be respected? If so, why?
"It's a dramatic choice," says Leo Filippini, a law professor at the University of Palermo in Buenos Aires with expertise in transitional justice. "Should we have late trials against old men, or leave people who tortured to get pensions and retire with military honors … while the victims get no justice and the person who tortured them lives down the street from them?"
In the 1980s, Latin America's emerging democracies reached an uncomfortable compromise: In exchange for immunity for crimes committed during repressive "anticommunist" rule – including illegal detention, kidnapping, torture, murder, and forced disappearances – the armed forces relinquished power and allowed civilian governments to rule.
---