Early Christmas gift: US Army off-road vehicle built for Afghanistan
The first of 5,000 new off-road US Army vehicles arrived in Afghanistan this week. Custom made for the mountainous terrain, the Mine Resistant Ambush Protected All Terrain Vehicle is lighter, and considered safer, than Mine Resistant Ambush Protected (MRAP) used in Iraq.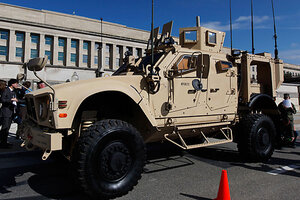 Manuel Balce Ceneta/AP
The US military's new all-terrain vehicle doesn't look all that different from its lumbering predecessor. It's painted desert sand, and reaching the cabin still means climbing a couple of steps.
On Afghanistan's rough dirt roads, however, the new $500,000 to $1 million Mine Resistant Ambush Protected All Terrain Vehicle is a major improvement over the massive Mine Resistant Ambush Protected (MRAP) vehicle it's replacing, soldiers say. The M-ATV is tailored to Afghanistan, at least parts of it, and the Pentagon is sending about 5,000 of them to the battlefield.
For soldiers who'd grown accustomed to bruising trips through rural Afghanistan, their first M-ATVs, which have just been introduced in the field, were an early Christmas present. Seemingly without effort, the vehicles climb mountains at angles that approach 45 degrees, and they glide across the country's rocky roads.
In the cities, the M-ATV's lighter frame can make sharp turns and maneuver through Afghanistan's lawless traffic much better than the hulking MRAP can.
Introduced in 2007, the MRAP was the Army's answer to the Iraqi insurgency's deadliest weapon, the improvised explosive device. What worked in Iraq hasn't worked as well in Afghanistan, however.
10,000 pounds lighter
---