World's tallest building opens in Dubai with a new name
The Burj Dubai ("Dubai Tower") is now the Burj Khalifa, named after the president of Abu Dhabi. The 2,716-foot tower boasts the world's highest mosque and world's highest nightclub.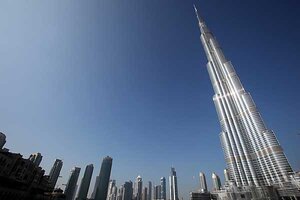 Ahmed Jadallah/Reuters
Dubai, United Arab Emirates
The world's tallest skyscraper – boasting 1,000-plus luxury apartments and a hotel designed by Giorgio Armani – opened Monday evening at an awkward time for Dubai, which is suffering a massive real estate crash. Three weeks ago, the Arab city-state had to be bailed out again by wealthier neighboring emirate and rival, Abu Dhabi.
The irony was highlighted by the unexpected last-minute name change from Burj Dubai ("Dubai Tower") to Burj Khalifa. Sheikh Khalifa bin Zayed al Nahyan is the head of Abu Dhabi and president of the United Arab Emirates, which includes Abu Dhabi, Dubai, and five other emirates (or city-states).
The renaming of Dubai's iconic tower after its rival's ruler was announced Monday night at the tower's inauguration, which otherwise offered no sign of Dubai's ongoing economic troubles.
Thousands of spectators, including Dubai's ruler, Sheikh Mohammad bin Rashid al Maktoum crowded the plaza surrounding the tower to watch a dazzling water, light, and fireworks show choreographed to music.
---