Egypt says Jewish slaves didn't build pyramids
Egyptian archeologists presented new evidence Monday that the people who worked on the Great Pyramids of Giza were not Jewish slaves, but paid laborers. Newly discovered tombs show construction workers were honored by being buried near the pyramids.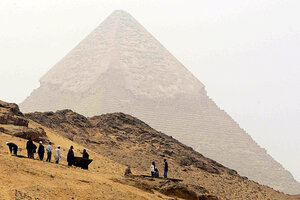 Tarek Mostafa/Reuters
Egypt displayed on Monday newly discovered tombs more than 4,000 years old and said they belonged to people who worked on the Great Pyramids of Giza, presenting the discovery as more evidence that slaves did not build the ancient monuments.
The series of modest nine-foot-deep shafts held a dozen skeletons of pyramid builders, perfectly preserved by dry desert sand along with jars that once contained beer and bread meant for the workers' afterlife.
Egypt's archaeology chief Zahi Hawass said that discovery and the latest finds last week show that the workers were paid laborers, rather than the slaves of popular imagination. Such tombs would not have been built for slaves.
Mr. Hawass told reporters at the site that the find, first announced on Sunday, sheds more light on the lifestyle and origins of the pyramid builders. Most importantly, he said the workers were not recruited from slaves commonly found across Egypt during pharaonic times.
The mud-brick tombs were uncovered last week in the backyard of the Giza pyramids, stretching beyond a burial site first discovered in the 1990s and dating to the 4th Dynasty (2575 B.C. to 2467 B.C.), when the great pyramids were built on the fringes of present-day Cairo.
The ancient Greek historian Herodotus once described the pyramid builders as slaves, creating what Egyptologists say is a myth later propagated by Hollywood films.
Graves of the pyramid builders were first discovered in the area in 1990 when a tourist on horseback stumbled over a wall that later proved to be a tomb.
One popular myth that Egyptologists say was perpetrated in part by Hollywood movies held that ancient Israelite slaves — ancestors of the Jewish people — built the pyramids.
---