German hostages in Yemen located
A German couple and their three children have been located, but are still being held hostage, according a German official in Yemen. But who's holding them hostage remains a mystery.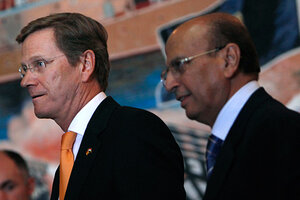 Nasser Nasser/AP
Yemeni authorities have located a German couple and their three children who have been held hostage in Yemen by unidentified kidnappers since June, German Foreign Minister Guido Westerwelle said on Monday.
"I have learnt from my conversation with the president that two hours ago the location of the hostages has become known," Westerwelle told reporters in German after talks with President Ali Abdullah Saleh in Sanaa, the Yemeni capital.
Westerwelle said the Yemeni authorities were working for the release of the hostages, who were among a group of nine foreigners kidnapped in the northern region of Saada.
Three women from the group — two Germans and a South Korean — were later found dead. The other missing hostage is a Briton.
Westerwelle did not say where the family was being held or who had kidnapped them.
Germany's mass-selling Bild newspaper cited an unnamed government official on Dec. 23 as saying the German government had received a video which showed the three children, aged between one and five years, alive but looking exhausted.
No group has claimed responsibility for the abduction, which occurred in an area where Shi'ite "Houthi" rebels are fighting government troops. The rebels have denied they were responsible.
---