Nigerian president puts rumors of his death to rest
Nigerian president Umaru Musa Yar'Adua put to rest rumors that he was dead in a telephone interview with the BBC Tuesday. It's been six weeks since he left his post for treatment in Saudi Arabia.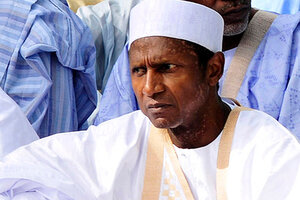 Afolabi Sotunde/Reuters/File
Johannesburg, South Africa
UPDATE
By speaking with a BBC reporter by phone from his hospital bed in Saudi Arabia, Nigerian President Umaru Musa Yar'Adua has put to rest rumors that he was either dead or in a coma.

President Yar'Adua told the BBC that he hoped to recover quickly and to return to his duties. The president's six-week long absence has sparked calls for him to step down, as much of the country's key decisions – including a peace process with Niger Delta rebels and an investigation into a Nigerian-born plane-bomber - remains undone.

"At the moment I am undergoing treatment, and I'm getting better from the treatment. I hope that very soon there will be tremendous progress, which will allow me to get back home," he told a BBC reporter. "As soon as my doctors discharge me, I will return to Nigeria to resume my duties."
"I wish, at this stage, to thank all Nigerians for their prayers for my good health, and for their prayers for the nation."

Thousands of demonstrators gathered Tuesday in the streets of Nigeria's capital, led by Nobel laureate Wole Soyinka. Nigerian legislators were scheduled to meet today for the first time to discuss what to do about the power vacuum left by Yar'Adua's absence.
----------------------------
---