Terrorist attack averted in Iraq, says Iraqi general
Iraqi security forces say they seized 25 suspects and 880 pounds of explosives – enough for about 10 car bombs – in a citywide crackdown Tuesday. A military spokesman said a terrorist attack was planned for today.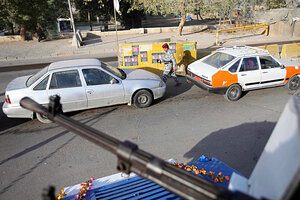 Khalid Mohammed/AP
Iraqi forces arrested suspected insurgents and seized a huge cache of explosives Tuesday, in a crackdown across the capital that brought parts of the city to a standstill.
The security measures came amid concerns that insurgents will carry out more bombings, like the ones against government buildings in past months that killed hundreds, ahead of the March elections.
The government's announcement that it had arrested 25 suspects and seized 880 pounds (400 kilograms) of military grade explosives also set off bitter accusations from some Sunni politicians that the government had exaggerated the incident to burnish its security credentials.
The charges laid bare once more the stark lack of trust in Iraq between the Shiite-dominated government and the Sunni Muslims who oppose the government.
Maj. Gen. Qassim al-Moussawi, the capital's top military spokesman, said security forces had seized 440 pounds (200 kilograms) of TNT, 440 pounds (200 kilograms) of C4 and 66 gallons (250 liters) of ammonia, as well as 60 explosive devices. Twenty-five suspects who had been planning an attack that morning were arrested, he said.
The report of the seizures were not independently verified.
An explosives expert said if the figures al-Moussawi quoted were true, then the security forces had seized enough explosives to make around 120 suicide vests, or around ten average-size carbombs, or a giant truckbomb big enough to blast a crater 32 feet (10 meters) deep in a tarred road.
The expert spoke on condition of anonymity because he was not authorized to speak to the media.
"This will not prevent the insurgents from attacking, but it will slow their operations," said analyst Tim Brown at GlobalSecurity.org. "If the reports prove true, it represents a major success for the Iraqi government."
---