Air Al Qaeda: Are Latin America's drug cartels giving Al Qaeda a lift?
There is growing concerns that Al Qaeda in Africa and Latin American drug cartels are working together. Latin American cocaine flights go to Africa, en route to Europe. Are Al Qaeda members on the empty planes back to Latin America?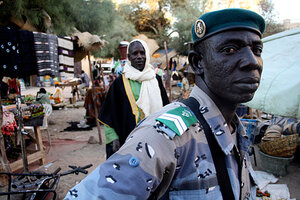 Tim Gaynor/Reuters/File
Johannesburg, South Africa
It's known as the Coca Cola plane. In early November, drug traffickers landed a Boeing 727 in the Malian desert in Gao state and offloaded as much as 10 tons of cocaine. Then, rather than fly it back across the Atlantic to Latin America, they simply burnt it, treating it like a used Coke can.
 
The terrain of northern Mali is stark desert, and a haven for Islamist insurgents with close ties to Al Qaeda. Initially, investigators thought the plane had crashed in the desert on take off.
But now, based on the fact that the plane was largely intact, many experts suspect that the drug cartels – perhaps in coordination with their Al Qaeda partners – burnt the plane deliberately.
"That shows you the strength of the drug cartels, and how much money they have," says Rinaldo Depagne, a West Africa expert at the International Crisis Group in Dakar, Senegal. "It's like a plastic [Coca Cola] bottle to them. When you are done with it, you just throw it away."
---
Follow Stories Like This
Get the Monitor stories you care about delivered to your inbox.