Q&A: How much aid has reached Haiti?
More than $1 billion in aid to Haiti has been pledged so far by governments from Guatemala to Greece. The UN and other groups are increasing food distribution by the day.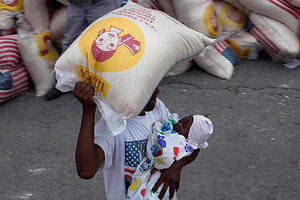 Ramon Espinosa/AP
As the Haitian government announced an end to rescue operations, the country and the international community are turning to the long, hard process of reconstruction that Prime Minister Jean-Max Bellerive, at an international aid conference in Montreal Monday, said could take between five and ten years.
How much aid has reached Haitians?
While teams from around the globe came in to rescue those buried in the rubble, so, too, did surgeons and paramedics, performing procedures in open fields and makeshift clinics under tents. Ciro Ugarte, a disaster expert at the Pan American Health Organization (PAHO), says that over 150 health-care points have been set up throughout Haiti, and that 135 teams are on the ground providing surgeries and post-operative care.
The UN and other groups are also increasing food distribution by the day. The United Nations World Food Program provided 2 million meals this past Friday, representing about two-thirds of all of those hurt or displaced by the earthquake, up from 1.2 million the day before. The United States Agency for International Development (USAID) reports it will be providing 14,550 tons of food aid for 1.2 million people over the next two weeks. The Red Cross is providing 3 million pre-packaged meals, in coordination with the WFP, to arrive this week, the group says.
---