What will Afghanistan President Karzai say in London?
Sixty nations convene in London Thursday to discuss Afghanistan's future. Will President Karzai announce plans to bring Taliban into his government? Will he criticize US role in Afghanistan?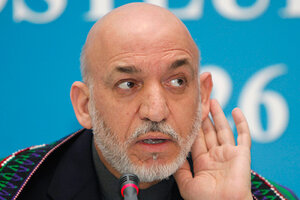 Osman Orsal/REUTERS
 When 60 or more nations convene in London Thursday to discuss Afghanistan's future, the script calls for agreement on plans to split the Taliban insurgency, a process to reach an eventual political settlement, improvements in governance and the battle against corruption.
What everyone's bracing for is the unscripted — when Afghan President Hamid Karzai takes the podium.
"In the past, President Karzai has occasionally used public speeches to say things that seem pretty harsh to us," said one US official in Kabul, who like others spoke anonymously because of the sensitivity of the issue.
Karzai won't be begging for more from the U.S. and the more than 40 other nations who've sent forces and treasure to Afghanistan to prevent the Islamist insurgency from regaining power. He'll ask them to do less.
"We're not going to ask for more cash. We're going to ask the international community to end nighttime raids on Afghan homes, to stop arresting Afghans, to reduce and eliminate civilian casualties. We're going to ask them not to have Afghan prisoners taken," Karzai told Al Jazeera television early in the month.
Biting the hand that feeds him won't win him popularity with Westerners wary of sending their forces here, but a confrontational stance could add to his popular appeal in a country at war since 1979, that was twice abandoned by the U.S.
---