As Tamil refugees resettle, their well-being could determine Sri Lanka's
Almost 200,000 Tamils have left Sri Lanka's postwar refugee camps – some for tin-roof shelters or relatives' homes. Their resettlement is seen as key to national reconciliation after decades of war against Tamil rebels ended last May.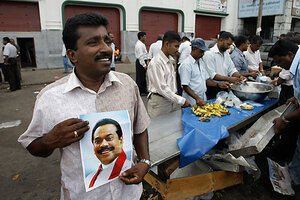 Eranga Jayawardena / AP
Behind a barbed-wire fence, the vegetable garden is a sea of weeds. Stumps mark the spot of a coconut grove. Pubanesary Shanthakumaran's yard has definitely seen better days.
After government troops overran her rebel-held village in 2008, she fled with her husband and three children, then ended up in a refugee camp. In October, Ms. Shanthakumaran's family was allowed to return home. They were given $25, dry rations, and a stack of tin sheets to build a temporary shelter in their fallow yard, next to a hardy mango tree. Finally, they were home.
"I was very happy to see that my land was still here, even if there's nothing left of my old house," she says.
It's a journey that many other war refugees are starting to make. In the aftermath of Sri Lanka's victory last May over the Tamil Tigers in their northern redoubt, vast refugee camps swelled with more than 280,000 survivors, left in limbo by a government intent on wiping out any pockets of resistance after 26 years of war. Some Tamils feared indefinite detention.
But a shift in the political wind spurred a push to send them home, and some camps began to empty out almost as quickly as they filled up. Now some 100,000 refugees remain, to the relief of international aid agencies running low on emergency funds. The fate of these people, and of returnees trying to rebuild their lives, may hold the key to a lasting peace in Sri Lanka's Tamil-dominated north.
Political pressure sends refugees home
In January, the resettlement of internally displaced people (IDP) paused for a presidential election won easily last week by the incumbent, Mahinda Rajapaksa. That over, officials say the program will resume as more war zones are cleared of mines and public services are restored.
---