US arms sales to Taiwan stifle US-China military engagement
To protest the US's arms sales to Taiwan, China halted contact between the two nations' militaries, which has expanded in recent months to include study tours and naval exercises. China also threatened Tuesday to retaliate against US companies involved in the arms sales.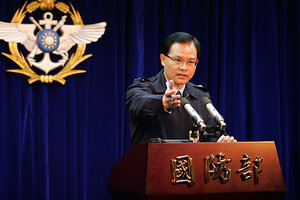 Wally Santana/AP
Twelve months of friendly American diplomatic overtures and weeks of private warnings were not enough. Since Washington announced last week a $6.4 billion weapons sale to Taiwan, an island Beijing regards as a renegade province, China has vented its anger just as fiercely as ever.
Deflating United States' hopes that this time it would be different, China immediately suspended contacts between the two countries' militaries, just as it did in 2008 reacting to a previous US arms deal with Taipei.
The move disappointed US military planners who had looked forward to better and more stable relations with their Chinese counterparts.
"I'd hoped that in the future we could shield the military-to-military relationship from the political ups and downs," Defense Secretary Robert Gates said Monday. "I think that we have a lot to learn from each other."
Mr. Gates's own planned trip to China this year is now up in the air as a result of the Chinese decision.
So are a range of activities that mostly happen in the shadows, such as study visits by Chinese People's Liberation Army (PLA) officers to US universities like the National Defense University in Washington, reciprocal study tours by US officers at Chinese institutions, and naval exercises. The Pentagon has been building such ties quietly, as it warily pursues engagement with a potential enemy.

---