In Iraq, banned Sunni candidates back in the race
A ban on hundreds of (mostly Sunni) candidates in Iraq was lifted Wednesday. The ban was reversed after senior Sunni politicians threatened to boycott the March 7 national election.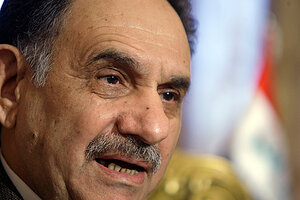 Mohammed Ameen/REUTERS
An Iraqi appeals commission has lifted a ban on hundreds of candidates, allowing them to run in the March 7 elections. But if the ruling stands, there's a catch: those blacklisted will still be subject to investigation after the vote for past ties to the regime of Saddam Hussein.
Senior Sunni politicians had threatened to boycott the election after a controversial process which banned more than 500 people, for everything from Baath Party membership to intelligence agency links.
"They have the right to run in the election," said Hamdiyeh al-Husseini of the Independent High Electoral Commission (IHEC) Wednesday. The appeals court would examine their files after the vote, and any links mean "they will be eliminated," according to Agence France-Presse.
The ruling sparked further controversy, with Prime Minister Nouri al-Maliki's Dawa Party declaring that the appeals commission could only rule on individual cases, but not order a blanket lifting of the ban.
"We have heard that such a decision has been made by the appeals commission, but we have not received anything official yet," says Judge Qassim al-Aboudi, an executive officer of the IHEC.
---