Why Jacob Zuma's infidelity carries a small political price
South African President Jacob Zuma admitted this week to having a 'love child' out of wedlock with a mistress. While the media and opposition politicians are critical of his infidelity, South Africa's black majority electorate accepts that Zulu culture includes polygamy.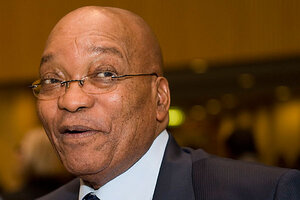 Jon Black / AP
A sitting president cheats on his wife with another woman, admits to the press that he has a "love-child," and he still keeps his job.
No, this isn't Europe. We're talking about South African President Jacob Zuma, and his admission this week to having a child out of wedlock with a mistress. While grabbing headlines, his infidelity is unlikely to have any political implications either for Mr. Zuma or for his ruling party, the African National Congress (ANC). But it does reveal something about the character of this country's politics and its electorate.
"I really don't think this will change a single vote," says Steven Friedman, director of the Centre for the Study of Democracy, an initiative of Rhodes University and the University of Johannesburg. "In South Africa, it's about identity politics. It's big-issue politics. Although this is a socially conservative society, the political fault lines are so deep and so clearly drawn that personal and sexual morality becomes a non-issue."
---
Follow Stories Like This
Get the Monitor stories you care about delivered to your inbox.