Afghanistan: Peace talks with the Taliban's Gulbuddin Hekmatyar
Gulbuddin Hekmatyar heads the smallest of the three main Taliban nsurgent groups. He is holding tentative peace talks with the government of Afghanistan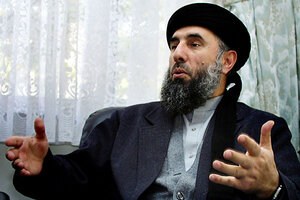 Caren Firouz/Reuters/File
Gulbuddin Hekmatyar, one of Afghanistan's most brutal Islamist warlords, is holding tentative peace talks with the government of Afghanistan that could cause a split in the Taliban-led insurgency, Afghan politicians in Kabul said Wednesday.
The terms that Hekmatyar has outlined are softer than those proposed by the Taliban, who've demanded that U.S. and other foreign troops must leave Afghanistan before peace talks can begin. Hekmatyar would allow international forces to remain in the country for 18 months.
The government of Afghan President Hamid Karzai, with the tacit backing of the international community, is feeling its way toward some dialogue with insurgent groups in an attempt to end the violence in Afghanistan.
Hekmatyar, a veteran jihadist who fought the Soviet occupation of Afghanistan in the 1980s with U.S. and Pakistani support, now heads the smallest of the three main insurgent groups. The other two, the Taliban and the Haqqani network, are associated with Al Qaeda.
A deal with Hekmatyar would be controversial, especially with women's groups and human rights activists, who fear that it would jeopardize the hard-won freedoms enshrined in Afghanistan's 2004 constitution.
Hekmatyar's proposal, quietly circulated to the government and selected politicians late last year, would install a "neutral" interim government in Kabul for two years, said Afghan political leaders who've seen the plan but didn't want to be named for fear of their own safety.
---