Afghanistan war: Taliban hiding behind civilians in Marjah
Taliban insurgents are holding civilians as hostages in the southern Afghan town of Marjah, say Afghan and NATO intelligence reports.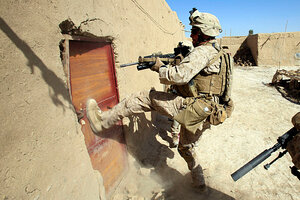 Goran Tomasevic/REUTERS
Amid intelligence reports alleging that Taliban insurgents are holding civilians as hostages, American and Afghan forces moved cautiously through the Taliban stronghold of Marjah on Tuesday as they pressed the biggest offensive since the U.S. landed troops in Afghanistan more than eight years ago.
The U.S.-led International Security Assistance Force (ISAF) had issued an apology Sunday for the deaths of 12 civilians who were killed in Marjah, saying that an American rocket "failed to hit intended target" and struck a house 300 yards away. U.S. and Afghan forces in a mixed unit had come under sustained fire before American troops fired the rocket.
However, Afghanistan's interior minister, Hanif Atmar, gave a different account Monday, saying that the dead civilians were being held as hostages.
"The Taliban were attacking (the soldiers) from five places. We took a decision to hit the fort (house) but we didn't know they had civilian hostages," Atmar said at a news conference in Lashkar Gah, the capital of Helmand province.
The ISAF later suggested that the coalition's initial apology had been in error. Coalition investigators now think that the rocket hit its target and three insurgents died in the strike in addition to the 12 civilians, ISAF officials said. They're trying to determine whether those Taliban were holding the civilians prisoner.
---